CV BOOT CLAMP/ AXLE BOOT CLAMP
Best quality C.V.Joint Clamps/ axle boot clamps in stainless steel with special technology for extra grip.Nesco boot clamps are adjustable. These clamps are fitted with a hose clamp crimping tool. It is suitable for Axle boots of most new generation cars. These clamps do not loosen or break. Nesco clamps are corrosion resistant. We are one of the leading hose clamp manufacturers in india.
What is hose clamps
1. What is a hose clamp : hose clamp/hose clip is a device used to attach and seal any type of hose onto a fitting such as pipe or any thing
2. What is a common use for a hose clamp :
hose clamp use it to secure a hose over a pipe etc., to prevent any fluid flowing through the hose from leaking at the connection. Common uses for hose clamps include securing hoses in automobiles, agriculture,industrial,hardwares.
3. Which are the best hose clamps?
      Nesco SS 304 hose clamps are best, having torque strength of more than 9.1Nm
4. Types of hose clamps : there are many type of hose clamps as per application use such as
1. SS Worm drive hose clamp :
Worm drive clamps have threaded strip and a screw is tightened in a housing cap.Hose Pipe Clamps strip and lock is stainless steel and screw is galvanised steel with combination head.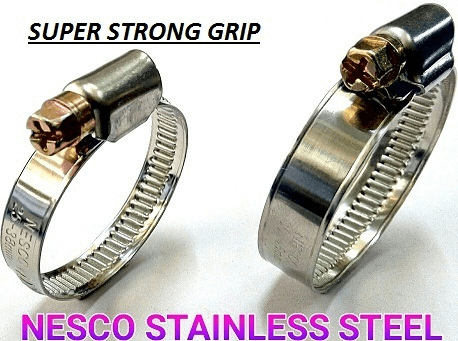 2. 304 Stainless steel hose clamps:
Hose clamp – band, housing and the screw are all made of premium stainless steel grade SS 304. Hose clamps are salt resistant, anti rust, anti corrosion, oil and water proof. Nesco hose pipe clamps are strong, sturdy and reliable. Nesco SS 304 hose clamps have no failure torque strength of 9.1 Nm. SS 304 hose clamps have also low temperature strength and smooth workability.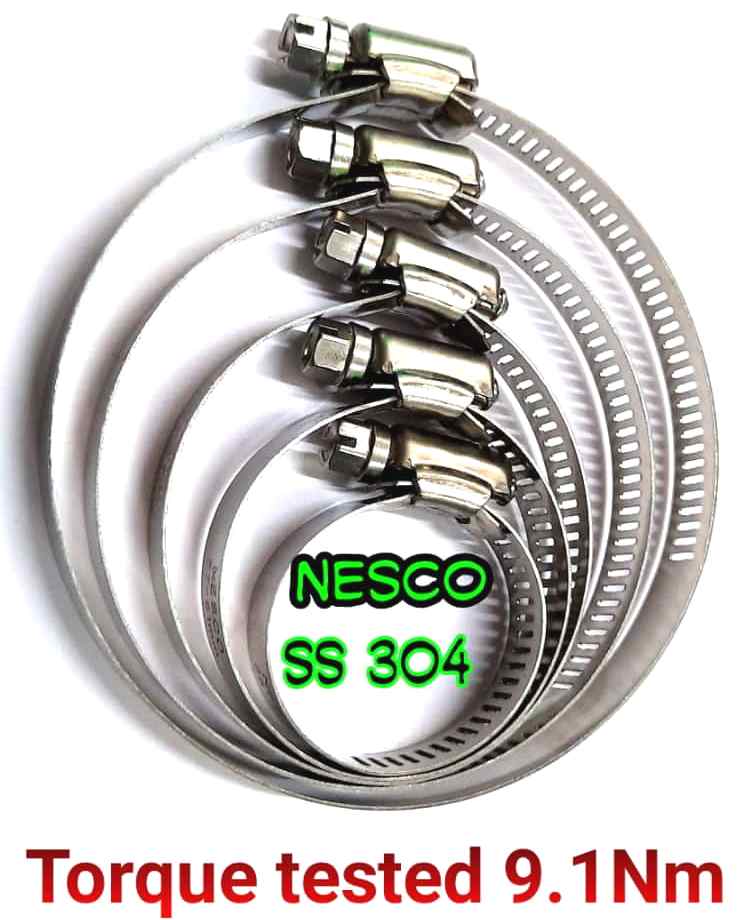 3. Spring band hose clamps :
made from a spring steel strip, for low pressure applications. Spring band clamps have constant tension: lets the clamps automatically expand and contract with your hose or tube as temperatures fluctuates. Smaller size spring hose clamp is required than pipe diameter. These clamps can be reused till tension remains in the clamp. ecause of the advantages of their design. Because of the advantages of their design these clamps are mostly used for hose connections in heating ,cooling and air ducting systems.
4. Hose Clamp with handle :
These are worm type hose clamps with a PVC handle for easy operation. No tools are required for fitting.Hose clamps edges are smooth .They are also called butterfly hose clamps. These clamps are designed for DIY, home and garden pipe fitting.
5. CV Boot Clamps :
made of prime stainless steel strip with square holes in it.The other end of strip has pointed teeth to firmly grip axle boots.These clamps are fitted with special hose clamp crimping tool.
6. Car Wire hose clamps:
wire hose clamps are manufactured from wire with a screw placed in small steel strip in the rounded edges of wire.
7.Double wire hose clamps mild steel
   a thick wire is double rounded at two edges of a screw and a nut on other side as a loop. Hose clamps are plated for corrosion resistance.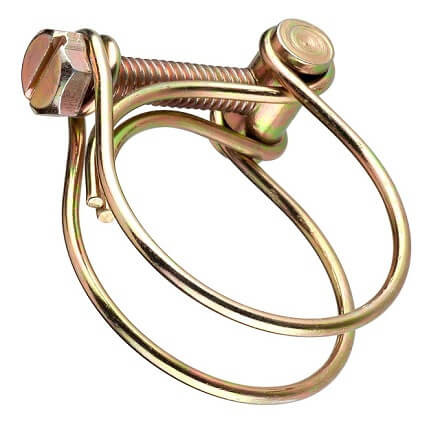 8.Stainless steel double wire hose clamps
   These Nesco double wire hose clamps have wire,nut and screw of stainless steel for best performance.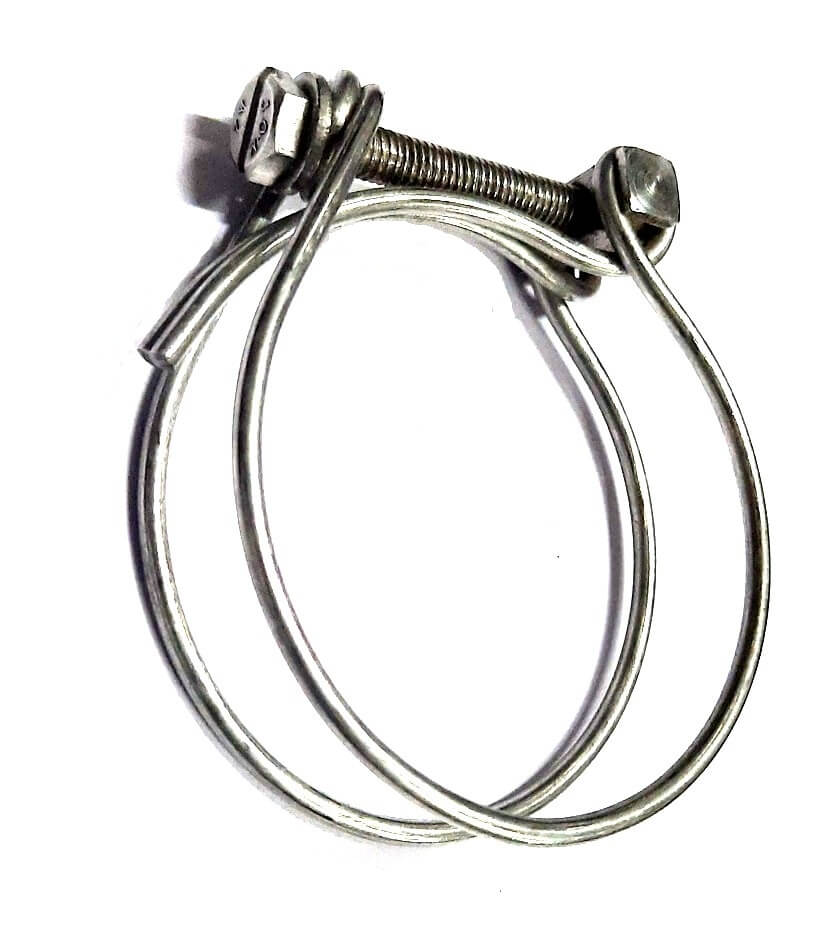 HOSE CLAMP USES :
Automobiles- Trucks, Earth movers ,Tractors,Cars ,3 wheelers and 2 wheelers
Industries, Engineering and machine tools
Agriculture spray pumps and machinery
Hydraulics and pneumatics
Hardwares
Railways, metros, marine
Traffic signals and hoardings
Laboratories , hospitals
Home gardening pipes
WORM DRIVE HOSE CLAMP SIZES
We are manufacturing worm drive hose clamps from 1/2 inches to 5 inches.
Hose clamp sizes chart in mm
Nesco Hose clamps sizes are from 8-12mm to 110-130mm.
HOSE CLAMP SIZES INCHES
Nesco hose clamps sizes are from 1/2″ – 5". More sizes available on demand. Please contact for hose clamp size chart pdf . 
WORM DRIVE HOSE CLAMPS SIZE PDF NESCO
Pipe and Hose Clamps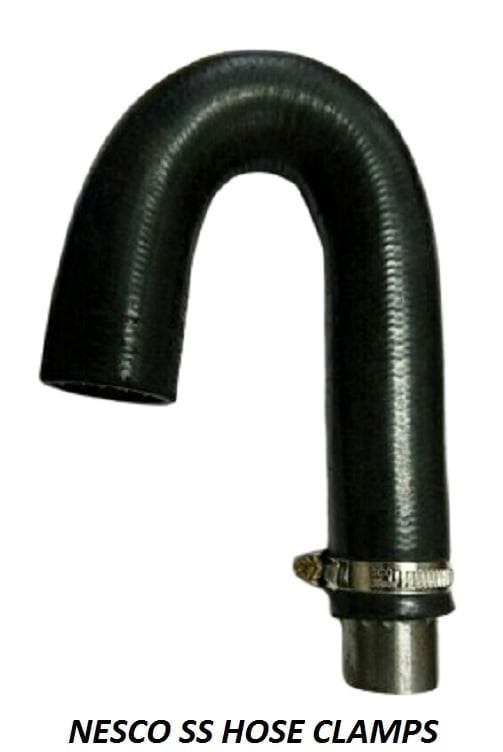 Hose pipe Clamp hs code 7307 , 7318